The idea of a portable ham radio station satisfies the needs of the Ham Radio hobbyist and the use of Amateur Radio for communications in times of emergency. The hobbyist may enjoy making contacts with other Hams from remote locations. It doesn't matter what the motivation, the convenience of having all your radio equipment stored safely, and easily transportable just makes sense. Couple the go box with a 12v battery, and a BuddyPole antenna system and you have a complete and portable Ham Radio Station.
I recently visited my family in Florida and assisted my brother in law with building his Ham Radio Go Box design project to realize his concept of what a portable Amateur Radio Station should be.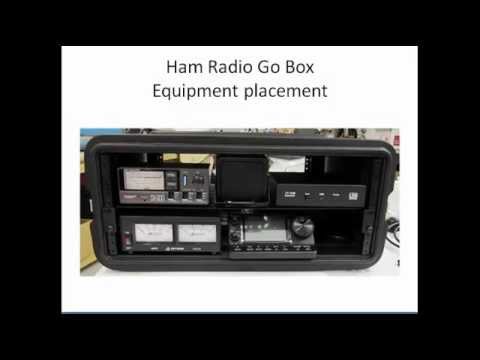 The main issues were to have all the equipment:
• conveniently accessible for use
• transport the equipment safely
• provide safe storage
• be easily reconfigured with future acquisition of new equipment
Radio Go Box Case
Some research led to Gator cases. The Gator case used for this project turned out to be a perfect solution. The Gator case satisfied all the requirements and is reasonably priced too.
The UT4 model is a standard 19" equipment rack that can accommodate four shelves. The shelves used are half depth, about 13", and have a universal mounting hole pattern that makes it easy to mount any equipment mounting pattern.
The Gator case will become a complete portable radio station in a box.
You can tailor your go box to your personal preference but here is the equipment list used for this project.
The Gator case is already reasonably priced through Amazon.

| | |
| --- | --- |
| | |
| | |
Gator Cases Pro Series Rotationally Molded Rack Case (4 Space)
List Price: $135.99
Sale Price: $115.00
See Reviews For This Product


Description

The Gator Cases U.S.A. Made, rotationally molded G-PRO Series rack cases are manufactured in our Indiana facility to withstand the rigors of touring. Made with virtually indestructible roto-molded polyethylene; these cases will protect your rack gear from the damage and destruction that can occur in between gigs! The 19" rack-able depth is design to hold both, shallow and deep sitting gear. The molded-in ergonomic carry handles are design to provide comfort while moving your gear around. The G-Pro series rack case also comes with front and rear rack rails, as well as recessed twist latches. The Gator G Pro series rack cases are available in 2U, 4U, 6U, 8U, 10U and 12U sizes. The G Pro series also includes the rolling G-PROR series rack cases in 4U, 6U and 8U sizes. The G-PRO and G-PROR series rack cases were designed to provide solid protection for the gear mounted within them. Gator Cases understands that your gear is important and needs to be protected. This is why our designers designed the cases polyethylene frame to withstand impacts but maintain lightweight for easy transport. The solid rack rails are also designed to support your gear with no problem! Gator Cases is known for manufacturing innovative products designed to protect! We offer a wide range of available sizes, materials, and protection levels, for all types of instruments and gear including Frameworks stands, Rackworks install racks and accessories, and Protechtor drum cases. It isn't hard to find a great reason why Gator should be the brand you trust to protect your equipment for life!

Features

Indestructible roto molded polyethylene design
19" rackable depth
Recessed Penn-Elcom twist latches
Front and rear lids
Molded-in, ergonomic side carry handles
Equipment List
• Gator case
• Astron RS-35M power supply
• LDG IT-100 antenna tuner for the IC-7100
• Diamond SX-600 SWR Power Meter
• Speaker
• Icom IC-7100 transceiver
The electronics items are available through DX-Engineering, Ham Radio Outlet, and you can also find them on EBay. For convenience and price matching here are links to all the components on Amazon to build your radio station in a box.
The benefit to buying through Amazon is the no questions return policy and in many cases free shipping. If you aren't already an Amazon Prime member then you are missing out on some great benefits, features, freebies, and did I mention free shipping! Check out the benefits of Amazon Prime.
Installation tip - Others have used this same model of Gator case and cut the shelves to install one from the front and one from the back. We found that it is possible to slide one shelf in from the back and one from the front but install one upside down. This allows the shelves to overlap and eliminates the need to cut the shelves. An important tip should you desire to change equipment or configuration in the future.
A standard home wring ground buss fit the rack mount hole spacing perfectly and still let the Gator case cover fit.
Braided copper cable was used for grounding inside the case.
The IC-7100 has HF and UHF/VHF capability. External SO-239 antenna connectors were installed in the case. The connector installation makes it easy to connect the HF and VHF antennas and looks professional.
Anderson PowerPole connectors are used for DC power.
The Go Box can be powered from the Astron Power Supply installed in the case or from an external 12 VDC battery.
A Power Gate automatically switches from battery to AC power.
The selected DC output from the PowerGate feeds a RigRunner DC distribution and fuse block.